Let's take a break from this coarse, brutish world and travel back to the mid-1940s of Hollywood.
When I watched the classic 1946 film, Gilda, for the very first time just a few years ago, I was subjugated by the beauty (inside and out) of Rita Hayworth. Why it took me so long to see Gilda is beyond me, but everything about the movie blew me away, including the controlled and gritty performance from a young Glenn Ford. Gilda is the role that defined Rita Hayworth. A professional dancer too, she could hold her own in any performance. (She danced with Fred Astaire and Gene Kelly.)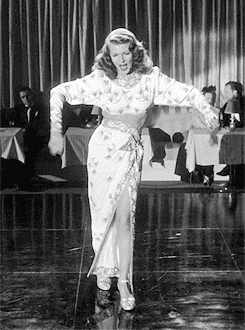 But what a sad personal life she had. Rita's real name was Margarita Carmen Cansino and she started dancing at the age of 6 to support her family. Throughout her teen years she was subjected to sexual and physical abuse by her father who was also her dancing partner. She would be exploited by men for most of her life – in her personal life, her professional life and even in the onscreen characters she played. Her five failed marriages included Orson Welles and playboy Prince Aly Khan. She would maintain a lifelong friendship with Glenn Ford who played opposite her in Gilda. Her later years were marked with struggles with alcoholism, and then the disease that ultimately took her from us in 1987 at the age of 68: Alzheimer's.
Rita and Glenn burned up the screen with sexual tension. In 1946, this was OFF THE CHARTS! And the tension was real because not only were they lovers in the film, they were also lovers in real life.
Here's a YouTube video of extracts from Gilda –